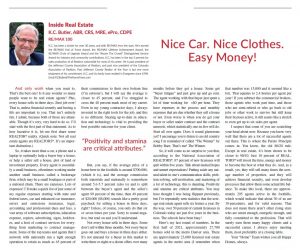 And only work when you want to. That's the best one! Is it any wonder so many people want to be real estate agents? Plus, every house sells in 3 days. Best job ever! That is, unless financial security and having a life are important to you. That isn't entirely fair I admit because both of those are attainable. Though it's very, very hard to do so. I'll start with the first part of that statement. As to how lucrative it is, let me first share some Realtor reality. (Quick note: Not all real estate agents are Realtors. It's an important distinction.)
So, it takes more than a car and a phone and a laptop computer to optimally help a buyer buy a house, or help a seller sell a house, a plot of land, or investment property. Every agent is essentially a small business, oftentimes working under another small business called a brokerage firm, which may be a small boutique or part of a national chain. There are expenses. Lots of expenses! I'll make a quick list up just some of my regular expenses starting with state and federal taxes, car and enhanced car insurance, errors and omissions insurance, legal, accounting, professional dues and fees, a vast array of software subscriptions, education expense, copiers, advertising, signs, lockboxes, and a host of contract services for everything from marketing to contract management. Some of the top teams and agents that I network with nationally run a tight enough operations to retain as much as 65% of their commissions to their own bottom line (I'm envious!), but I will say the average is closer to 45% and I've struggled to cross the 40% mark most of my career. Even in my young contractor days I always invested in the right tools for the job, and this is no different. Staying up to date in education and technology is vital to providing the best possible outcome for your client.
But, you say, if the average price of a home here in the foothills is around $700,000, which it is, and the average commission both statewide and nationally it's somewhere around 5.6 or 5.7% (also is), which is split between the buyer's agent and the seller's agent ninety-nine percent of the time, then 40% of $20,000, or $8,000, sounds like a pretty good paycheck for selling a house in 3 days. Unless of course you only do that six or 7 times per year. Sorry to sound negative but read on and you'll understand.
Not every house sells in 3 days. Some don't sell in 3 months. Not every buyer goes out and buys a house in three days either. It's not unusual for a buyer in this market to write 3 or 8 or a dozen offers over many months before they get a house. Some get "buyer fatigue" and just give up and go rent. The agent working with that buyer just spent a lot of time working for  <$0 per hour. They have expenses in the process and monthly expenses that are due whether they sell a house or not. Even worse is when you do get your buyer or seller under contract and the contract unravels, which statistically one-in-five will do. Start all over again. Does it sound glamorous yet? I encourage you to listen to an old country song I'm reminded of called The Winner by Bobby Bare. That's me! The Winner.
So, it will come as no surprise to you that, according to the National Association of Realtors, 87% of new licensees will quit within five years. Talk about dashed hopes and unmet expectations! Putting aside any natural talent in one's communication skills, problem-solving, self-motivation, and mastering of a lot of technology, this is daunting. Positivity and stamina are critical attributes.  You may have thought I was being flippant previously, but I've repeatedly seen statistics that the average real estate agent sells 6 homes a year. BTW, over 50% of current licensees in Colorado today are just 5 years in the business. The schools have been busy!
Here's my last round of numbers. In the first half of 2021 approximately 27,700 homes sold in the metro Denver area. There are approximately 23,000 licensed real estate agents in the metro area (I remember when that number was 15000 and it seemed like a lot). That equates to 2.4 homes per agent per year! If you subtract the commercial brokers, those agents who work part-time, and those who are semi-retired or who go back to old jobs or other work to survive but still keep their licenses active, it still seems like a stretch to even get up to 6 sales per agent.
I suspect that some of you are scratching your head about now. Because you know very well that there are a lot of successful Realtors out there. This is where the Pareto Rule comes in. You know, the old 80/20 rule. Except in the real estate, it's been shown to be closer to 90/10. Just 10% of Realtors will invest the time, energy, and money to become the best at what they do. And as a result, yes, they will sell many times the average number of properties, and they will that achieve financial security, and even develop processes that allow them some actual life balance. To make this local, there are approximately 295 agents active in the foothills, which would indicate that about thirty of us who are 10-percenters, and for valid reasons. That does not mean there aren't other rising stars who are smart enough, energetic enough, and fully committed to the profession. That will surely earn them many happy clients and a successful career. I always enjoy meeting them, most preferably at a closing table.
Your "Home" Team wishes you all Happy Homes, always.