Fortunately, the younger crowd who doesn't get the title reference has Google to solve the mystery. Almost every mystery actually. Which is not to say that everything on Google is factual. In fact, the "facts" on Google easily and frequently deceive. There is no research I draw from online that I don't check the source on and often then the background on the source before I have enough confidence to cite that information in my own posts, blogs or articles. Just sayin'.
Historians say that Humanity progressed from the agrarian era to the Industrial Age, then to the Information Age on the back of rapidly advancing technology. And I contend that we've now regressed to an age of rampant misinformation. Thank you, internet, and especially social media, which spreads misinformation like wildfire. We are challenged to discern the true from the half-true, the slanted, the 'twisted to a self-serving end,' and the outright crafted and manufactured misinformation such as what our foreign adversaries proliferate with the specific attention of turning us against each other. Sorry (not sorry), I went a little further with that than I intended, so I'll just step off that soapbox and get back to my purpose here, which is to share useful information about real estate.
Before I share exactly what's going on with real estate, both locally and nationally, I want to make clear what's not going on. If you own real estate, and even if you just acquired it, don't fret: there is no "crash" in the offing.  The difference between the Great Recession of 2008 and the current recession is truly night and day. In 2008, interest rates and inflation were relatively modest and stable. But unemployment was rising. And the Black Swan event that triggered that Great Recession, the subprime mortgage crisis, was directly tied to real estate. The mortgage industry, with little regulation and a lot of ambitious creativity, created a vast proliferation of high risk mortgages inevitably going into default, which triggered a tidal wave of foreclosures. Hence, inventory of available homes went from a healthy normal to a huge glut of homes available to a shrinking buyer pool due to high unemployment.
Also not happening… a rash of low-priced foreclosures hitting the market. In the last 24 months, 12.5 million homes were purchased nationally, and 81,100 were purchased in the six-county Denver metroplex. Of those, only the ones that were purchased with minimum down financing could even be at risk of going to foreclosure because they would have the least amount of equity of all of the mortgage-encumbered homes. If you have equity, you can sell your home even if you have to give up a lot of that equity to do so. And minimum down home buyers have been the least successful in competing with cash buyers or even those who had a larger down payment. By the way, the same cash investors that have given prospective homebuyers such stiff competition in the last 10 years are still buying homes. Rents are rising, and they're all in on that!
Remember that Great Recession's huge glut of homes I mentioned? Yeah. That ain't happening either. In recent years, we reached low inventory numbers not known in the recorded history of available homes. I'm talking over 60 years. And with the rise in population during that time, and the number of homes that have been built during that time, that's an astonishing fact all in itself. And we can't even build what's needed due to ever-increasing regulation, resistance to growth in communities, and the ever-rising cost of building, keeping the American dream just out of reach for average Americans. Tragically, the separation between the Haves and the Have-Nots in the greatest country on Earth continues to widen. Nationally and locally, we will be short on inventory for literally the foreseeable future. And with that comes consistently rising home prices. So, no crash. Not happening.
I've now transitioned into what is happening. Home prices continue to rise , albeit at a more reasonable appreciation rate. Consider, with the number of people who need homes and want to purchase rather than rent, demand is only reduced by the number of those who for now must, or choose to, rent a while longer. Unemployment is on the decline, so a majority of those can qualify to purchase. They are, however, going through some interest rate (payment) shock because many of them weren't around in the days when 6% was considered a very, very good mortgage rate. And the hardest part is reconciling with what you can now buy versus what your budget would buy just four or five months ago. But if you struggle with all this, just run a housing cost of renting versus owning (and what you're left with) over a 20- or 30-year period. The choice is crystal clear.
Okay, so I lectured you about facts and then launched into my personal interpretations of the facts. If your interpretation is different than mine, I welcome and appreciate your perspective. My email is above. But I do want to lay down some of the facts (data) of the current market that make me confident in the perspectives I share.
The rise in mortgage rates that caused so many homebuyers to hit pause just happened to coincide with the usual spring lift of new listings, so there was a lot of excitement about the growing inventory. But, for the moment, interest rates have stabilized, spring is over, and what's emerging is this crazy thing called a balanced market!
Listings are lasting longer. The average days a home is on the market has increased every month since the all-time low of 8 days in April and May to more than double that so far in August. The list-to-sold ratio has dropped from its all-time high in April of 106.4 percent of asking price down to a still strong 100 percent of asking for July and August so far.
The graph I'm sharing involves a daily data download and demonstrates how New Listings and Back on the Market Listings rose as they typically do in the springtime, and are now tapering down but remaining above new contracts, meaning inventory is slowly increasing at this point.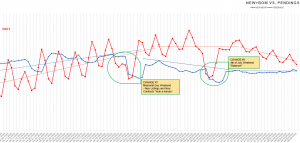 Please use my email above and tell me what you think of the information I'm sharing along with any other information you'd like to see.
Happy homes! From your "Home" Team